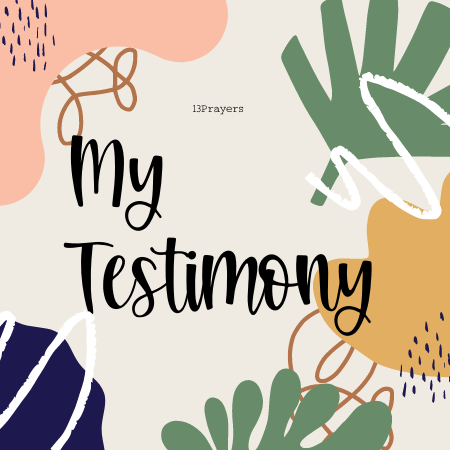 [A testimony is the
statement or declaration of a witness under oath or affirmation, usually in court; 
evidence in support of a fact or statement;  
open declaration or profession, as of faith.]
Let me share my testimony of faith – about The Day God Saved My Life:
First, I was raised in a Christian home. We went to church, read the Bible, sang in the choir, did all the right "churchy" things. I knew all about Jesus.
But that's just it: I knew ABOUT Jesus. Like, you know about George Washington.
George
George Washington was Father of our Nation, First President, had wooden teeth, owned slaves, blah, blah, blah. Guess what: I've NEVER MET him.
And that's the way my early life was, too. I could recite chapter and verse. Literally.
After my sister accepted Christ, she changed, and I noticed.  She had walked down the aisle at church. I wanted that difference. So I walked down the aisle, too.
Wet
I went down front and shook the pastor's hand. He asked if I'd gotten his letter.
I hadn't.
He had me fill out a card.
I did.
Then everyone came by and shook my hand. Period. No discussion. No prayer. No questions. Just walk down front and fill out a card.
I was 9. A week later I was baptized in this Southern Baptist Church – "dunked" – and my mother asked me how it made me feel.
She grounded me because I answered truthfully,
"I felt wet."
But it was true! I didn't feel any different. The whole experience rang hollow. I must have done it wrong.
Lesson learned: you'd better know the right answers. Or else. Oh, and put more effort into things.
Turmoil
TRIGGER WARNING                     
TRIGGER WARNING                   
TRIGGER WARNING
Years went by. I studied my Bible, attended every class, joined every group. I was the one people turned to for all the right answers. I was elected president of our youth group. But it was all a lie. I was a fraud. I KNEW I had no legitimate connection with God. I was working soooo hard FOR Him, just not WITH Him. My prayers bounced off the ceiling.
And I grew tired of it all.
I had everything. A good home. Friends. Good grades. The best clothes. Everything a 17 year old girl could want…
…except peace. I just couldn't do it any more.
Choose
One summer afternoon, I was sitting at home. I made my decision: I would end my life. Dad had guns. I knew where they were. I knew how to use them. I knew which one was loaded. I even made a plan to do this in the bathtub so it would be easier for someone to clean up. Today was the day.
Just then Mom interrupted my thoughts to remind me to go to church and practice the organ. Like the obedient daughter I was, I did. I was sitting at the organ, practicing for an organ lesson I was never going to have. And crying.
And my youth pastor walked through the sanctuary. "Come see me when you get done," he said.
He was sent there by God. I am firmly convinced of that.
He wanted to show me some witnessing tools he'd just gotten. Small tracts, or pamphlets, that walk someone through the process of being saved!
Believe it or not, this was the first time I think anyone had gone through all of that with me! When he finished, I quietly said, "Maybe I could do that?"
It took a minute for him to process what I'd said. I mean, here's your ace Christian teen asking to be saved? But he led me into a room where I could pray. Then he ran to get the music minister so together they could pray for me.
I MET JESUS
I met Jesus that day. He is my reason for living. And every day I have is a blessing because I get to tell someone else about Him. He literally saved my life that day. All because some godly people allowed themselves to be used by Him.
Mom didn't have to remind me.
Phil didn't have to walk through the sanctuary right then.
Even the postal workers who delivered the tracts that day had the perfect timing for God's plan. God worked it all out, and He has a plan for me. He has a plan for you, too.
You can met Him. Go here for more information.