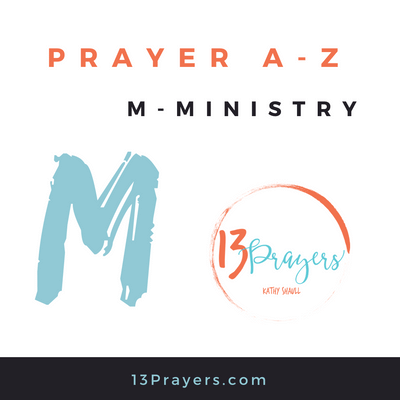 As we consider types/aspects of Prayer A to Z, we must look at prayer as a ministry. Other Prayer A to Z posts can be found here.
"All I can do…"
A senior citizen told me this week that they had only just figured out their purpose in life. They don't get out. They don't attend church. But they were so pumped because they now knew they had a purpose. Of course I asked, "What purpose?" Their answer? "I can pray," they said. "In fact, all I can do is pray."
Let's start with Basic Definitions:
Supplication=asking/begging for something earnestly or humbly
Intercession=divine strength or ability to stand in the gap in prayer for someone, something, or someplace, believing for profound results.
Stand in the gap=a means of temporary fortification when a wall of protection has been breached. A warrior will literally stand in the gap. Also, in prayer, a prayer warrior will pray for someone, something, or someplace under attack.
Prayer=a means of interacting with God.
Thanksgiving=a prayer expressing gratitude.
Some are Gifted…
There are many spiritual gifts listed in Scripture. One is the Gift of Intercession. This is the person whom God has entrusted with a special measure of prayer sensitivity and passion. It just seems to come easy for them.
But ALL are Called…
While some are given an extra measure of prayer as a Gift of the Holy Spirit, included with the FRUIT of the Spirit is the command to pray at all times in the Spirit, with all prayer and supplication. 1 Tim. 2:1 says, "First of all, then, I urge that supplications, prayers, intercessions, and thanksgivings be made for all people (emphasis mine)." Paul didn't specify that only certain gifted people do this. This means we ALL have the responsibility to 1.) ask of God, things on another's behalf (supplication); 2.)talk to God about others (pray for); 3.)stand in the gap, believing in big results for others (intercession); and 4.)express gratitude for them (thanksgiving).
Prayer Ministry Benefits Others
The first obvious point of praying for others is that they will receive help from God. "For I know that through your prayers and the help of the Spirit of Jesus Christ this will turn out for my deliverance." Phil. 1:19. Yes, God is God. And He can do what He wants. But since He commands us to pray, I believe that our prayers are part of the equation to unleash this mighty power.
A Ministry Toward ALL Others
In Matt. 5:14, we are commanded not just to love our enemies but to pray for those who persecute us. You should try it. It may not change them, but it can surely change YOU. It's very difficult to be angry and bitter at someone you are pleading earnestly for before the throne of God.
Prayer Ministry Benefits Yourself
Okay, so this isn't why you should offer to pray for someone. But it is an example of how God sees and blesses earnest prayer ministry. Job 42:10, "And the LORD restored the fortunes of Job when he prayed for his friends. And the LORD gave Job twice as much as he had." After everything Job went through, he earnestly prayed for his very unsupportive "friends." And God blessed him for that.
Is your life lacking a prayer ministry? It's not too late to start today. Pray throughout the day for people who come to mind. God will hear and respond. And, BTW, prayer is NEVER "all you can do." It is one of the most powerful things you can do. Never forget that.
Father God, thank you that we may approach You with our needs and desires. With our praise and gratitude. Help us to be ever-vigilant of those who need prayer and of those times we need to stand in the gap for someone. Help us see You answers in a way that lets others know only You could have made a way. In Jesus' name. Amen.
Thanks for stopping by today. You can find all the Prayer A to Z posts here.





by