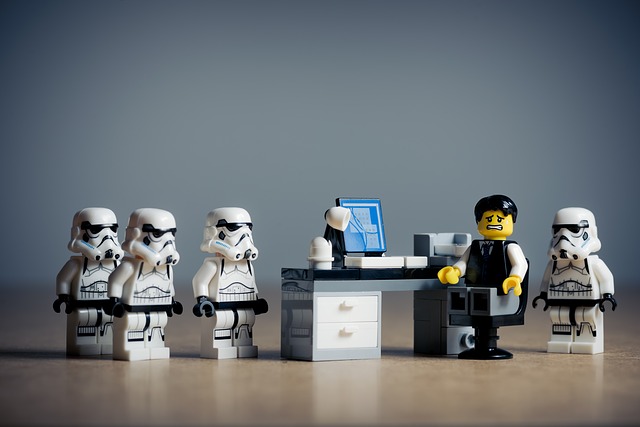 .
Joy. It's a terrible thing to waste.
I don't know about you, but some days I find it harder and harder to cultivate joy.
There have been big changes in the Shaull household recently:
Son moved to Arkansas.
Niece moved to college.
Now, both of these are good things. Life moves on, and things change. People grow. New opportunities arise.
But sometimes I feel like the computer operator in this picture: Everyone is wanting something from me, and my system has crashed. So today, I'm reminding myself – and you – to avoid the following Joy Suckers:
Spend Less Time in Scripture Daily – This is perhaps the fastest way to lose joy. When you stop filling your mind and thoughts with God and His profound love for you, other things begin to take over your thinking process. Satan loves when we avoid God and His Word. Don't make him happy.  Don't focus on world events and all the evil things in the news. Memorize scripture. Read the Good News. (Ps. 37:28 "For the LORD loves the just and will not

forsake

his faithful ones.")
Devote Yourself to Making Everyone Around You Happy – Circumstances may bring happiness, but God brings joy. When you spend all your time worrying about what other people are thinking of you, you are wasting so much energy on an impossibility. Work instead to please God. The payoff is eternal. (1 Thess. 2:4 "For we are not trying to please people but God.")
Avoid Doing Things That Recharge Your Batteries – Life gets tough. It's the nature of things. And everyone has something – I hope – that they do that revitalizes them. What do you do? Do you read? Watch movies? Binge watch something on Netflix? Cook? Play with your pet? I write. And because of computer difficulties, family vacation, school starting, niece moving, etc, I haven't touched my manuscript in almost a month. So I'm wound pretty tight right now. I need to fix that. The Bible even talks of walking beside still waters and lying down in green pastures so God can restore your soul. (Ps. 23:2-3)
Sleep Less – Don't laugh. It's hard to have joy when you haven't had sleep. Until recently, I didn't realize what a difference real sleep could make. Real, deep, REM sleep is vital to survival. Close your eyes early tonight, and you may find joy waiting for you in the morning. (Ps. 3:5 "I lie down and

sleep

; I wake again, because the LORD sustains me.")
Convince Yourself That You Have No Value – You do have value. Enough value that Christ died an agonizing death on a cross. For you. He would have done it for you even if you were the only one in the entire world who needed it. You are precious to Him. It doesn't matter your race or color or political views. You are loved. (Phil. 2:3, "Rather, in humility

value

others above yourselves") Note that while you are to value others more, scripture does not tell us to NOT value ourselves.
Stop Praising God – Praise can be difficult when there are such terrible things going on around us. But God thrives on our praise. He craves it. Surely we can find something in our day for which we can praise Him! (Ps. 48:1, "Great is the Lord, and worthy of praise!)
The Gracelet Challenge:
In difficult times as these, we need joy more than ever. My challenge for you is to spread the idea that we need to praise God for something every day. This is not a new idea.
In my little corner of the world, I have a wonderful friend who challenged me years ago to find the "gracelets" God had given me each day. Little joys sprinkled about. Then praise Him for them.
I need this now.
Maybe you do, too.
Let's post at least one positive thing a day on social media. There's no reason to feed the negative attitudes that are running wild these days.
Let's bombard the world with the blessings from God.
Will you take the challenge with me?
From today until September 1, post a positive with the hashtag #graceletchallenge and let's change the world.
Save
Save
Save





by