It's time to discuss our Identity. Show me your ID.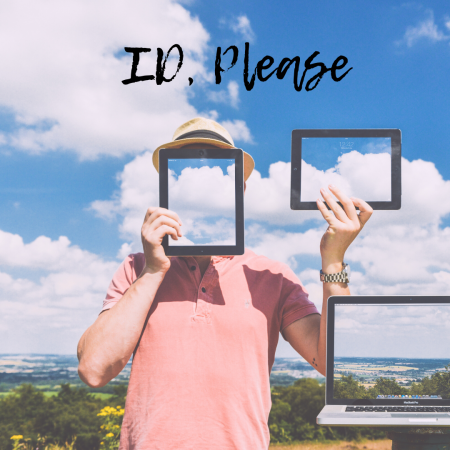 Today we begin the second half of our study by examining our true identity.
Note: Often people get bogged down at the midpoint of Bible studies — a ploy by Satan to stall growth. Be aware and refuse to let it happen.
Key:
We have no need to live in fear because we are the children of God. Remember that key lessons are repeated/sprinkled throughout Scripture? This concept of our Identity is one of those.
John 1:12, "But to all who did receive Him, who believed in His name, He gave the right to become children of God."
Gal. 3:26, "For in Christ Jesus you are all sons of God, through faith."
1 John 3:1, "See what kind of heart the Father has given to us, that we should be call children of God; and so we are. The reason why the world does not know us is that it did not know Him."
Rom. 8:16, "The Spirit Himself bears witness with our spirit that we are children of God."
Even in the Lord's Prayer, as Jesus Himself is teaching us to pray, He tells to pray, "FATHER…"
Royalty
Not just anyone gets to spend time with the ruling monarch. If I were to call up Buckingham Palace and ask for 10 minutes with Queen Elizabeth, they'd most likely hang up on me. (Probably in a most polite and British way.)
You see, I have no standing with her – no relationship. But her children? They know how to reach her. But, most likely, just as in ancient Bible times – as reported in Esther 4:11 – you can't just drop in on the monarch. Now I doubt that Queen Elizabeth would have Prince Charles killed if he just popped in to see her, but I do think there's a system in place where he must first ask before he enters her room. And that's his own mother!
Confidence
But WE are allowed to approach God with confidence! See Heb 4:16, "Let us then approach God's throne of grace with confidence, so that we may receive mercy and find grace to help us in our time of need." This is so He may help us in our time of need. Yes, confidence. Because we are His children. Because any penalty/price/fee/cost to stand before Him has already been paid. By Christ. So when you feel afraid, GO TO GOD – with confidence!
Song – a song of praise!
"Good, Good Father" sung by Chris Tomlin, Written by Anthony Brown/Pat Barrett, (c) Capitol Christian Music Group
Dig Deeper with Eph. 2:4-7
Eph. 2:4-7 "(4)But God, being rich in mercy, because of the great love with which He loved us, (5)even when we were dead in our trepasses, made us alive together with Christ – by grace you have been saved – (6)and raised us up with Him and seated us with Him in the heavenly places in Christ Jesus, (7)so that in the coming ages He might show the immeasurable riches of His grace in kindness toward us in Christ Jesus."
Paul describes God as rich in MERCY. What does MERCY mean to you?
What does JUSTICE mean to you?
How about a definition for GRACE?
Referring back to Eph. 2:4-7, we're told in v. 6 that we've been raised up with Christ and seated with Him in the heavenly places. Where does He sit? (See Col. 3:1, Heb. 8:1, and 1 Pet. 3:22)
Back to Eph 2:4-7. Why are we there? We have a lesson to learn. What is it?
If we're at His side, being shown this amazing lesson by the Son of God, how do you feel about having Christ as your personal tutor in the coming ages?
Prompt.
Illustrate your praise for God's work as your Father. I've posted mine below.
Father God, I am so incredibly blessed to have you as my Father. While I may not understand all that You do, I openly admit that Your will is far superior to mine. Never let me forget my true identity begins and ends with You.