Good Grief? Grief finds us all at some point.
It doesn't matter who you are – each of us will face loss at some point in life. Loss through death. Job loss. Estrangement. Divorce. Loss of a dream. Illness. Abuse.

You may think your loss doesn't matter to anyone else. That your loss is small compared to others. But if your loss is real to you, then it matters. It matters to God, and it matters to me.
YOU ARE NOT ALONE.
If you feel stuck in grief, maybe it's time to move THROUGH it. Maybe it's time to face the hurt so you can move forward.
Maybe it's time to talk to someone about it.
Hi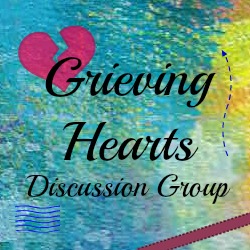 s Kingdom Come is opening a discussion group for Grieving Hearts this week. Joining His Kingdom Come is free, and the discussion group will be free as well. I will be helping to moderate the group, and I'd love to have you stop by.
I will share my personal grief story another day, but several months ago God had me focus on grieving hearts. Including my own. And perhaps even yours.
Join the Grieving Hearts Discussion Group on HKC, and let me pray with you through your grief journey.
I will also be offering a Grief Course online beginning June 8. You'll be able to sign up here soon. Here is more information:






by