Welcome to Session 5. Here we begin to face unspoken things. Be gentle with yourself.
To Learn—
For the Soul:
The Lord hears the prayers of His children. He doesn't expect you to speak to Him in flowery speeches, but if you are His Child, He does expect you to have a conversation. (If you do not already have a personal relationship with Jesus, click here for more information.)
If you have already asked Jesus to be your Savior, then talk to Him and He will listen. He promised.
Jeremiah 29:12 (NIV) "Then you will call on me and come and pray to me, and I will listen to you."
Psalm 66:19 (NIV) "God has surely listened and has heard my prayer."
Sorry, but I just have to have an English teacher moment here. Jere. 29:12 is future tense: God is promising that He will listen to your future prayers. And Ps. 66:19 is present perfect tense: God has already listened. This means He heard the prayers you have already prayed, AND – considering that our human concept of time is surpassed by God – He has heard your yet unspoken prayers as well.
And if you are in the midst of a time when you just don't have the words? That's okay, too.
Romans 8:26(AMP) " So too the [Holy] Spirit comes to our aid and bears us up in our weakness; for we do not know what prayer to offer nor how to offer it worthily as we ought, but the Spirit Himself goes to meet our supplication and pleads in our behalf with unspeakable yearnings and groanings too deep for utterance."
How great for us that God knew ahead of time that we would have those life moments when we just don't have the ability to put together a prayer of words on our own! He knew. And He provided.
Mandisa expresses this beautifully in her song "Broken Hallelujah."
So, if you have something to say to Him, say it. Be honest. Be real. If you're angry, tell Him. (He already knows, so you may as well level with Him.) Nothing you say to the All-Knowing and Compassionate Father will surprise Him or turn Him away. He loves you, and He's listening. If you don't have the words, pray anyway.  Just whisper His name in a reverent tone, "Jesus." That is our simple prayer this session. Think of it as an invitation to hang out. He's listening.
"Jesus."
For the Heart: Scripture to memorize as you work through this session-
Psalm 66:19 "God has surely listened and has heard my prayer."
For the Body:
Movement– When grief hits, it is easy to crawl into bed or a favorite corner and lick our wounds. There is a time for that, but God does not intend for us to remain there indefinitely. Call on Jesus during this session. Ask Him for the strength to add some sort of extra movement in your schedule during this portion of our study. Go up and down the hall. Around the yard. Through the neighborhood. As you are up and moving, praise Him for what you see: your home, your street, the trees that shade you, etc. Use your excursion as a praise time, and He will energize and bless your efforts.
For the Mind:
Dealing with unsaid things

: After a loss, it is very common to have things arise that you wish you'd had the opportunity to say. This is your chance. Write a letter today. Say that thing you meant to say and didn't. Apologize for something you said or did and now regret. Ask for the apology you never got from them. Tell them how you get through each day without them. Tell them how you are keeping their memory alive. Take the time to really say good-bye. Remember to review the Privacy tab if you are concerned with others reading what you write.

Count Your Blessings

: I don't know if today is a "good day" or not for you, but you do need to take time out EACH day to count your blessings. God loves you. Your life may not look like you wish it did at the moment, but He can still use you – just as you are. If you haven't been writing out daily Vitamins, I challenge you to do that now. Start small. I remember a time when the only positive I could find was "I didn't think about throwing up today," but it was something. Look hard. There is a blessing in every day if you will be open to finding it.
To Create— (This course is designed for Art Journaling, but you should use whatever media you prefer.)
The following assignments are optional. Complete them or not in whatever order fits your needs. This is your journey.
Do not let this course give you extra stress

. As always, remember that my art samples are from my own responses to the prompts and are intended only as a starting point for your own expression.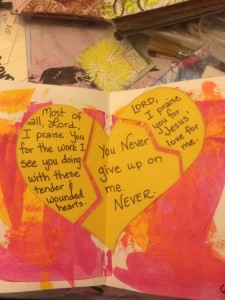 It's a Heart Thing –  (6/12)
Broken Heart
Create a large heart for page 6/12. Cut apart portions of it to create 3-4 jagged pieces. In each section write one thing for which you can praise God. Focus on who He is, His character, His promises. Even in our grief, God has not changed. He inhabits our praises. Write them out, and He will be there. Add color if you wish.
It's a Heart Thing – (7/12)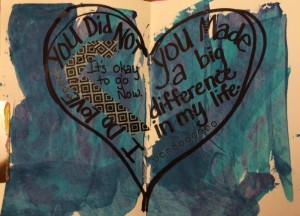 Heart of Unsaid Things
Design a large heart for page 7/12. Fill your heart with things from the letter you wrote from the assignment above. Use Privacy techniques to cover what you need. This is your chance to remove these things from your hurting heart and secure them to this paper heart that cannot feel the pain from these absent words. Section off the different things with lines or different colors if you need to.
It's an Art Thing: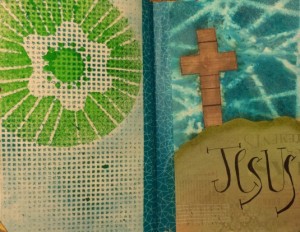 "Jesus" – Add this session's prayer to your art journal.
Unsaid – If you wish, create a page for something that – until now – has gone unsaid.
It's a Writing Thing:
(

Letter

) Check above in the "For the Mind" section's Dealing with Unsaid Things. Write the letter now if you haven't yet.

A Car Ride with Jesus

-Riding in the car is one of the best places I've found for having a serious conversation, especially one that's difficult. I think it's because one of the speakers is forced to focus on the act of driving. They have to break eye contact. That's great, because sometimes I don't want eye contact when I'm talking about "big stuff." Take time during this session to write out the conversation you'd most like to have with Jesus. Maybe you have nagging "Why?" or "What now?" questions you need to ask. PRAY before you begin, and LISTEN as you go. [My prayer team and I pray for you daily.]

Vitamins

In the back of your journal, write today's date. Each day, "Take your vitamins" and add 1 new thing you are thankful for. Just 1 a day.
It's a Feeling Thing (Stages of Grief):
Pick 2. Select 2 more of the stages of grief and illustrate them using your favorite media. Create a vivid picture that represents that feeling or the way you have found to best deal with it.
To Extend—
Dig: Search these additional scriptures to dig deeper –
Deut. 10:21
2 Sam. 22:4
1 Chron. 16:25
Ps. 7:17
Select one (or more) of the following scriptures or quotes to illustrate or letter in your journal.
Scripture:
Phil. 4:6 – Do not be anxious about anything, but in everything, by prayer and petition, with thanksgiving, present your requests to God.
1 Pet 3:12a – For the eyes of the Lord are on the righteous and his ears are attentive to their prayer
Ps 6:9 – The LORD has heard my cry for mercy; the LORD accepts my prayer.
Is. 58:9 – Then you will call, and the LORD will answer; you will cry for help, and he will say: Here am I.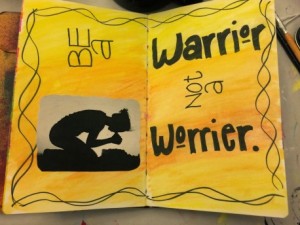 Quotes:
Be a Warrior, not a Worrier.
How big is your problem on a scale of 1 to God?
Why wish upon a star when you can pray to the one who created it?
What cannot be said will be wept. – Sappho
Life becomes easier when you learn to accept the apology you never got. – R. Brault
Someone else is praying for the things you take for granted.
For additional quotes, check my Pinterest board "Cross Above All" here.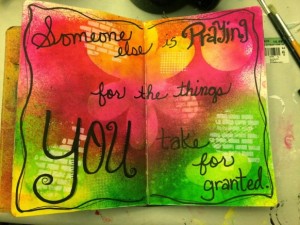 Don't Forget:
My prayer team and I are praying for you daily.
One last thing…
If you don't have a personal relationship with Jesus, I invite you to meet Him. For more information, click here.
Disclaimer: While I am a certified school counselor, I do not offer this course as a replacement for one-on-one personal therapy. This is an art journaling course designed to approach the grief process through Biblical scripture. If you feel your grief is beyond your control, please call 911 or speak to a health professional.