Welcome to Good Grief.
I have been praying for you. God has established this course – and your participation in it – as a divine appointment for healing.
Let's begin.
Your Need for God's Strength
To Learn—
For the Soul:
In the chaos that accompanies loss, the word that can often describe someone is "WORN." Grief is exhausting. Mentally. Emotionally. Physically.
This song sums it up. "Worn" by Tenth Avenue North.
But here's the good news: we do not walk the grieving path alone. God does not intend for us to deal with this alone. Surely a Father who watched His Son die on a cross can understand the effects of loss. And He gave us scriptures to help us through.
Isaiah 40:29 (AMP)  He gives power to the faint and weary, and to him who has no might He increases strength [causing it to multiply and making it to abound].
Power?
Yes, please!
Faint and weary?
That's me.
No strength?
None at all. At least not on my own.
Philippians 4:13 (AMP)  I have strength for all things in Christ Who empowers me [I am ready for anything and equal to anything through Him Who infuses inner strength into me; I am self-sufficient in Christ's sufficiency].
I don't know about you, but I'm eager to be empowered. God promises to infuse His inner strength into me? Well, that's great, because the only strength I'm going to have right now is HIS.
As we face this session, let our prayer simply be: "Power, please."

We don't have to muck through with our faltering strength. We have HIS strength.
When we need to be recharged: "Power, please."
Whether it's the power to make important decisions, the power to keep on breathing – or simply the power to climb out of bed.
"Power, please."
For the Heart: (Scripture to memorize as you work through this session)
Philippians 4:13 – "I can do all this through him who gives me strength."
For the Body:
Rest when you can.
Drink extra water.
Eat comfort foods without guilt, but also consume fresh fruits and vegetables when possible.
For the Mind:
There is a difference between grieving and mourning. Grieving is internal. It is the swarm of thoughts and feelings we experience after loss. Mourning is external. It is how we express OUR grief. Everyone's grieving and mourning experiences will differ, so there is no benefit in comparing your journey to someone else's.

Your journey is your own.

Grieving includes a flurry of emotions. It is messy. There are recognized stages of grief, but there is no standard progression from one stage to another.

Your journey is your own.

Numbness is also a potential feeling. Especially when the loss is fresh. Feeling something intensely can be frightening, but it is necessary to heal. If you have been stuck in grief for some time, you may have allowed yourself to stay numb because it is easier than feeling the emotions that surround loss. But when you begin to feel, you can begin to heal.
Preparing your journal
For art journaling, I recommend the Dylusions Journal as listed in the supplies. If you cannot afford or locate one, a composition notebook can become a great – inexpensive – alternative. I have detailed instructions on modifying a composition notebook into an art journal that will hold up to wet media on my website here: 13prayers.com/easy-journal-prep/  (Prepping all the pages before we start is not required, but having to do it as you go may slow you down when you are in an art-y mood. I do all of mine at once so I don't have to do it later. But that's just me.)
To prepare for our assignments – regardless of what journal you use:
1. Open the front cover of your journal. The first 2 page spread (I'll call this "Page 1") will be your title page. I will leave that to you to decorate/label on your own. [A pdf file of my title page can be found under the files tab if you want to use the course icon.]
2. The next 2-page spread (page 2) will be reserved for the assignment: Stages of Grief below.
3. The following 2-page spread (page 3) will be for a color chart assignment in Session 2. Leave it blank now, or pencil in a note for later.
4. The next 2-page spread begins a 12 page Heart activity. Please number each right hand page: 1/12(meaning page 1 of 12), 2/12, 3/12…to 12/12 so these pages are reserved for these projects.
And your journal is ready to go!
Privacy: An art journal should be a private place to process your feelings. Please take time now to read the Privacy techniques listed under Privacy here.
To Create— (This course is designed for Art Journaling, but you should use whatever media you prefer.)
The following assignments are optional. Complete them or not in whatever order fits your needs. This is your journey. Do not let this course add stress to you. My art samples are my response to the prompts and are intended only as a starting point.
Stages of Grief:
1. On the back of your title page, draw a large star. [A pdf file of Stages of Grief with labels can be found under the files tab.]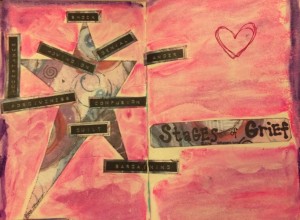 2. Use your coloring tools to decorate.
3. Use your black pen to label the stages around your star – or glue on my labels.
4. Remember that grief isn't orderly. You will not necessarily travel clockwise around the star. There may be times you skip stages or go back to a stage you thought you were past.
5. Put today's date near the stage you feel represents where you are today.
It's a Heart Thing – 1/12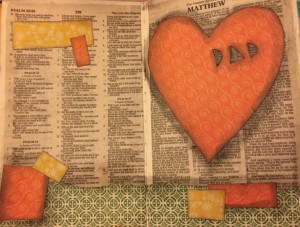 On the page you labeled 1/12, create a heart. Find a way to illustrate your loss as a hole in your heart. Make this a visual of how your heart now feels incomplete. For example: I am dealing with the loss of my dad Dec. 2012, so I made a "DAD" hole in my heart. (The scripture pages I used for the background come from a small Bible I was given specifically for this purpose. It is my intent to use scripture in this manner as a FOUNDATION for art, but I realize not everyone would be comfortable doing this.)
It's a Heart Thing – (2/12)
On page 2/12, create another heart.  Use this heart to illustrate how your heart felt just prior to your loss.
In my case, I had healed from losing one sister-in-law several years ago (Penny). Then my other sister-in-law died November 2012 (Desi). My mother fell at Desi's funeral and shattered her leg December 3, 2012 – only 27 days before Dad died. I was thrust into caregiver mode for her, and then took on additional responsibilities when Dad died.
It's an Art Thing:
"Powe
r, please."
In your journal after page 12/12, illustrate this session's prayer for those moments when you need to plug into God's infinite power. Here is mine:
My intent was that my heart was "drained," and I need to plug into God for recharging.
It's a Writing Thing:
Mark 12:30 says, "Love the Lord your God with all your heart and with all your soul and with all your mind and with all your strength."
With the realization that we have such limited strength, what does this verse mean to you? Journal your answer here. Use Privacy techniques as needed.
To Extend—
Dig: Search these additional scriptures to dig deeper –
Psalm 119:28
Isaiah 40:31
Select one (or more) of the following scriptures or quotes to illustrate or letter in your journal.
Scripture

:
Psalm 28:7 – The Lord is my strength and my shield.
Psalm 46:1 – God is our refuge and strength.
2 Thessalonians 2:16-17 – May our Lord Jesus Christ himself and God our Father, who loved us and by his grace gave us eternal encouragement and good hope, encourage your hearts and strengthen you in every good deed and word.
Quotes:
Fall 7 times. Stand up 8.
I am thankful for my struggle because without it I wouldn't have stumbled across my strength.
The strongest people are not those who show strength in front of us but those who win battles we know nothing about.
When something bad happens, you have 3 choices. You can either let it define you, let it destroy you, or you can let it strengthen you.
Life is tough, but so are you.
Never be ashamed of a scar. It simply means you were stronger than whatever tried to hurt you.
For additional quotes, check my Pinterest board "Good Grief – Strength" here.
Don't Forget:
My prayer team and I are praying for you daily.
One last thing…
If you don't have a personal relationship with Jesus, I invite you to meet Him. For more information, click here.
Disclaimer: While I am a certified school counselor, I do not offer this course as a replacement for one-on-one personal therapy. This is an art journaling course designed to approach the grief process through Biblical scripture. If you feel your grief is beyond your control, please call 911 or speak to a health professional.