Change of Focus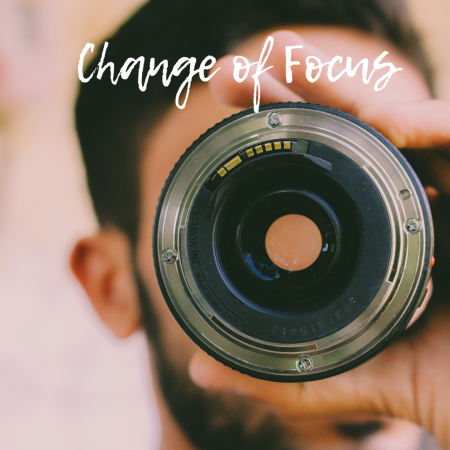 Ps. 86:11-13, "(11)Teach me Your way, LORD, that I may rely on Your faithfulness; give me an undivided heart, that I may fear Your name. (12)I will priase You, Lord my God, with all my heart; I will glorify Your name forever. (13)For great is Your love toward me; You have delivered me from the depths, from the realm of the dead."
Welcome to Lesson 7! So far we have:
Identified our Fears
Chosen to be Overwhelmed by God
Worshiped God as Power-full
Cried Out in prayer for His help
Accepted God's invitation into an on-going relationship
Recognized our Identity as Children of God
Today we're talking about a positive change of focus.
Just as we discussed the importance of praise and gratitude in Lesson 1, we must continue to keep our focus on Jesus and not our fear. We need an UNDIVIDED heart. (Ps 86.11, above)
If you'll allow me a quick Jesus lesson here: In Matt. 14:13-21, Jesus fed over 5,000 people with a boy's lunch and had tons of leftovers. Immediately after that, He made the disciples get in a boat to go across the sea while He went to pray. Then He joined them – by walking on the water. Peter asked to join Him – and Jesus agreed.
While Pete kept his eyes on Jesus, he was secure and doing the impossible. But the instant he looked at his circumstances, the waves overwhelmed him. (Matt:30)
This is the perfect example of how easy it is to lose focus and momentum.
As we begin to reopen the country and state, don't be surprised if you come face to face with fear again – even if you've remained calm for some time now. You see, that's part of the enemy's plan…complacency. We get comfortable and then forget to fully rely on God. Tragic but true.
Here, in self-isolation, we have a looser schedule and more time to devote to prayer and Bible study. (I hope you've been taking advantage of that.) But as things drift toward a return to "Normal," or Pre-Pandemic status, it will take a conscious effort for us to maintain those habits.
It may mean waking up earlier to have time for God before you start your day. It may mean limiting your TV/Internet time.
The point is, we must work to keep an undivided heart.
Song:
God of all My days, sung by Casting Crowns. 
Songwriters: John Mark Hall / Jason Ingram
God of All My Days lyrics © Essential Music Publishing, Capitol Christian Music Group
Dig Deeper
Ps 86:11, What must happen first to enable us to rely on God's faithfulness?
How do we get an undivided heart? Why do we need one? What does the word "fear" mean to you here?
Verse 12 – What happens when our heart is made whole/undivided?
Verse 13 – How can we tell God's love for us is real?
Col. 3:1-4, What one/undivided things should our hearts and minds be focused on?
Prompt
Illustrate your undivided (or re-pieced) heart. I've added mine below. My heart could easily become divided by music & writing, but I must surrender it fully to God.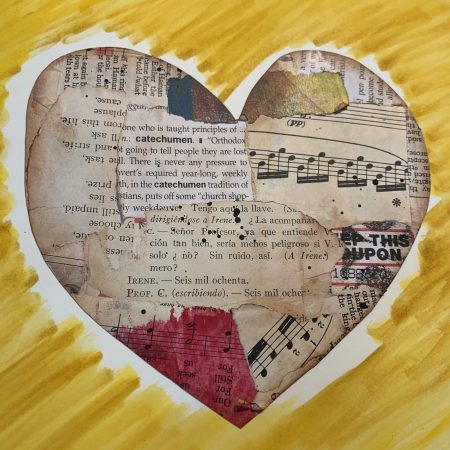 Father God, teach us Your way so we can rely on Your true and eternal faithfulness. Mend our hearts until they are undivided and whole, focused only on You. Give us strength to remain faithful to the habits we have formed. We praise You with these whole hearts You are giving us because Your love for us is overwhelming.