Father's Day
This weekend we celebrate Fathers.

The photo I chose perfectly illustrates why this weekend will be an emotional roller coaster for me. This is my dad, Frank (AKA 'Pops') with my daughter as they fed the ducks and geese many years ago.
The joy:
Daughter now lives across the country in SC – a fair drive from SW Oklahoma – where she is doing wonderful non-profit work. Hubby and I are spending Father's Day with her. This is such a blessing for us. I was unable to see her at Christmas. (You can read about my Different Kind of Christmas here.)
The bittersweet:
Father's Day just isn't the same once your Father is gone. I was blessed to have a wonderful Father. He was a tough, hard-working, compassionate bear of a man (half grizzly bear and half teddy bear). I miss his humor and his ability to read me and sum up my feelings when I couldn't put words to them. I miss his open acceptance of my quirks and his gentle urging to spread my wings. He would love that I'm on the Internet now. He's been gone since the end of 2012, and I must confess that I'm shedding tears now, writing this.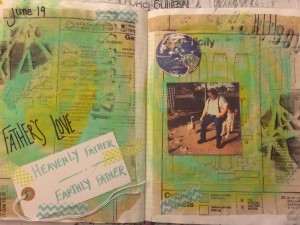 I see my Earthly Father:
I see my Father – my Daddy – in my son. The quick wit. The random, dry humor:

Son – You can't say 'run' when talking about going through a campground. You have to say 'ran.'
Me – Huh? (Partly because I don't understand, and partly because this was randomly inserted into another conversation) Why can't you say 'run'?
Son – It's past tents [Perfect joke for a guy to tell his former 8th grade English teacher who just happens to be his mom…]

I see my Father's love for me in Hubby's love for our children. His prayers for them. His sleepless nights. His drive to spend time with them. (No pun intended after the ride to SC from OK)
I see my Heavenly Father:
I see my Heavenly Father in my Daddy. His diligent work to provide for my needs and my safety. His love and willingness to let me approach Him no matter my mood or needs. And His ability to see the big picture and say 'No' when I asked for wacky things.
And I am blessed to know my Earthly Father is hanging out with my Heavenly Father until we can be together again. I picture him fishing with Simon Peter. And Peter is doubled over, laughing at a story Daddy is telling. One day, I'll be in the boat with them.
And maybe – just maybe – I'll finally catch a fish…unless Pops and Peter are too loud and scare them off.
---
My art today continues the June theme that I used here and here. Old sewing patterns from Mom and gauze for texture. Acrylic paint. This week, I painted in a circle because a Father's love is endless. Washi, drywall tapes and a tag. The triangles are pan pastel through a stencil to represent the Holy Trinity. I'm adding the Earth again as a reminder of Creation and God's hand in it. But also because Daddy meant the world to me; Fathers want the world for their kids; and my Heavenly Father gave up His only Son to save the World. It's the kind of sacrifice Daddys do.
If you are fortunate enough to still have your Daddy, call him. Or hug him.
If – like me – you are still working through the grief of loss, I have a scripture-based course available here, Good Grief.
And if you want to read a story of a prodigal father's struggle to reconnect with his son, my novel Choosing Justice will be available in paperback and ebook formats soon. I'll keep you posted.





by