Can't we all just get along? Let's list some conflict goals.
You may wish for world peace in reality, but within the pages of your novel you need conflict. To get true conflict, you need people with competing goals. Today you get the opportunity to clarify what your characters' goals are. Be sure to include any minor characters who can add to the mix of chaos/conflict. Unless you are telling a survival story of Character 1 against Nature, you will need a good guy and villain. (Or a not so good guy)
Protagonist
Your protagonist wears the white hat in the story. We cheer him/her on. We wish them success. When we read, we want authors to write antagonists that we love to hate. They are the characters who stand in the way of your hero's success. If you have multiple plot lines going, then this template is where you chart this.
Moving forward:
Me? Ike, former abusive father, is my unlikely protagonist, and Justice – a hero in his own right – is Ike's antagonist because his suspicion stands in the way of Ike's successful reconnection. In another plot line, Justice is a protagonist and Sheriff Hicks is his antagonist. No spoilers. Sorry. (So on the template, Justice would get 2 lines: 1 as protag vs. Hicks; 1 as antag vs. Ike. I could also put Justice as a protagonist within his own plot line and give him the goal of protecting his marriage. Since he views Ike as a threat, Ike becomes HIS antagonist.
The reason I put it both ways is to help myself (and you) look at it from both directions. There may be other antagonists for Ike who want to derail his chances with his son or foil him in some other way. I would include them on my template. At the same time, there may be another threat to Justice's marriage or his other plans that I could also add to my template. And all that is just this one plot line. (I usually need several copies of this template with my multi-plot line life.)
You? Stretch your mental muscles today with an exploration of character goals and the varied characters who stand in their way.
Can you think of a favorite character who had an unusual goal? Please share below or on my Facebook page here.
The 10 Free Templates list with links is on my Novel Planning Page. You'll also find information there about the additional template set I have available. Click here for more information. (All templates are available June 14, 2021.)
---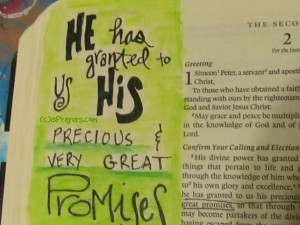 Promises. Have you ever sat down and made a list of promises people have made to you? Promises kept. Promises broken. God made an entire book full of promises to us, and He keeps His promises faithfully. 2 Peter 1:4 is my focus today.
What are some of your favorite promises from Scripture? Please share in the comments below.





by