Don't let writer's block stop you!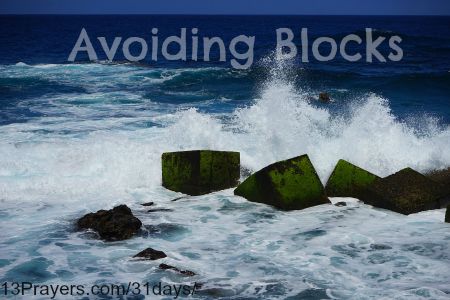 I don't know if you are a racing fan, but we're ready for the announcer to say, "Start your engines!" Are you excited? I'm excited for you. Whether you are ready to go or you still need a few days to get everything lined up, you've done a truckload of work here. So let's spend our last day together talking about the actual writing of your rough draft.
Writing is hard. It's a solo venture that few non-writers understand. Find your own space. Set a rule or put up a Do Not Disturb sign so that others around you know you are at work.
Carve out time every day to write. EVERY day. You set a word count goal. Stick to it. Surpass it. You don't have to be at your computer to write. Carry a notebook with you AT ALL TIMES. You know that scene? The one that's been bugging you, but you haven't dared to start it yet? Maybe waiting at the doctor's office is the moment it all comes together for you. Write it down. Ideas have wings. Hence the quote all my former middle school English students know, "Paper remembers better than you do." – Kathy Shaull
When you don't think you have time to write, WRITE. Write every day. One of my best tips: set a timer. Maybe 15 minutes. Maybe only 7. Start the timer. When it goes off, you MUST walk away. Even if you stop in the middle of a sentence. The scene will keep going in your head. Bonus: it will be easier to start up again next time.
Blocks happen to everyone. Fix it by writing.
a. Retype the last page you wrote. That's writing…sort of. It's like priming the pump.
b. Read your last page aloud. Read it in different voice or accents. I know you'll think I'm nuts, but there's something about hearing your words in a voice that's not your own that unlocks the juices. You'd be surprised how many times my Hubby walked in on me while this Oklahoma story was coming out of my mouth with a squeak, or a growl or a terrible British accent.
c. Start a scene that goes later in the book. Write.
d. Put your protagonist and antagonist in an awkward situation – not from your outline – and write about THAT. For example, Ike and Justice…meet, for the first time, 17 years after Ike almost killed his son. They are at a department store. Near the women's dressing area. As they wait for their wives who are trying on dresses. Or swimsuits. Yeah. Swimsuits. Or in Victoria's Secret. Yep. Holding purses for the wives amongst the lingerie. Can you say, "Awkward"? Dig into your characters in a new way. My point is: write.
e. Write a list. Groceries. To dos. Books to read. Movies to see. Anything. Write.
f. Take a minor character and give them a new quirky thing to do. Write.
g. DO NOT STOP WRITING YOUR ROUGH DRAFT AND START REVISING OR EDITING. I'll slap your hand. Bad, bad idea. Don't do it.
h. Do a stream of consciousness writing. Set the timer and just write everything you think. From "I should go do the dishes" to "This is stupid. I can't think of anything to write." Once you get going, add in what you'd say to one of your characters if you met them on the street. (At the scene where you got stuck.) Write what they would say in reply. Sometimes you're stuck because you have characters acting out of character. Let them tell you what they'd do instead.
Subscribe to a writing magazine. Learn the craft.
Join a writer's group.
Find someone who understands writing is hard. Talk to them for encouragement. (You can always use the contact form here, add a comment to my blog posts or find me on Facebook. I'll rekindle the flame within you and light a fire under you.)
Formatting Alert!!! I must put this out there. Only use 1 space between sentences!
I'm an old dog. New tricks come hard. When I first learned to type, it was on an actual typewriter. Yes, I'm a dinosaur. We were taught to put 2 spaces after ending mark punctuation. STOP IT!
In my first version of my first novel, when I did a "replace" command and removed all the double spaces, the book became more than 20 pages shorter. I'm not kidding. Granted, this was a quarter century ago, but there's a foggy memory that says it was more like 80 pages of blank space removed. Publishers don't want to pay for "nothing." Fix it now, and if this is news to you, then still do a "replace" in your editing.
There is a way on MS Word to have it alert you when you put more than 1 space:
File > Options > Proofing > Correcting writing and grammar > Writing Style > Settings > Spaces between words = 1
…Whew!
Me? I'm glad we spend this time together. I'm eager to hear from you on your progress.
You? Stop looking at blog posts and start writing!
Are you starting your draft tomorrow? When is your deadline? Let me know so I can cheer you on!
Remember:
My FREE novel planning templates are available beginning June 14, 2021 from my Novel Planning page here, along with links to the brief blog posts that explain them. You will also find links to posts describing my additional planning templates that are available here in my Shop.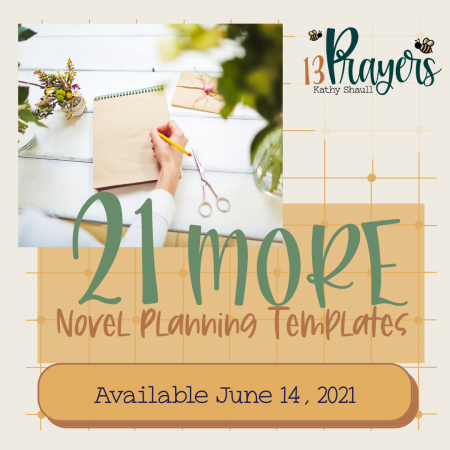 ---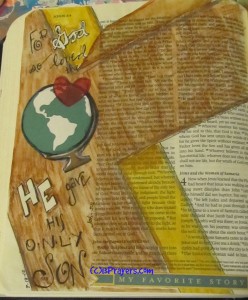 My final 31Day Challenge post and my "Out of the Box" journaling page:
John 3:16
I don't usually cover the text with my artwork, but I did with this page. It is Neocolor II watercolor crayons, so I can still read through it.
I leave you with this question: Have you made Jesus Christ Lord of your life? If you haven't, check out this page: Meet Jesus.
God bless.





by