Go with the flow...
Now that you know the details about your genre, it's time to start the real work on your outline. As you begin to flesh out your book, you are going to start by finding your critical scenes and plugging them into a story arc.
If you need a detailed review for a story arc, check here:
Helpful site #1
Helpful site #2
The short version:
1. At the end of the first third, you hit your first Plot Point. A critical decision point for your protagonist. Plug that into today's template.
2. At the midpoint, your protagonist has another decision that forces him to change direction. Plot this. (I'll explain the Mirror Moment Midpoint in a minute. Sorry. Please don't call the alliteration police.)
3. At the end of the second third, is Plot Point #2. Yet another complex decision/crisis. Write it in.
4. When you get 3 scenes/chapters from the end, you are at the Dark Moment. Everything is bleak. Chart it now.
5. Almost at the end: your climax. Resolution time! Put 'er there.
6. Denouement –AKA Resolution -  proof that lessons have been learned. End of story. Write it. Sign it. Pat yourself on the back. Your story arc is complete.
Midpoint Mirror Moment: I recently read a book called Write Your Novel from the Middle by James Scott Bell. (Not an affiliate link) Short book – 92 pages. Quick read. Interesting theory/advice. Bell suggests that you start with the middle of your story. He claims that the best books have a moment where the protagonist looks himself over – often literally in a mirror - and reevaluates his life/motives/etc. As in: "Can I do this? Can I make this change?" Well, we've already discussed how characters need to change, so this might work. If you know the change your protag needs, then you would know where they started. Write your Mirror Moment in.
Me? I read Bell's book AFTER my novel went to print. As it turns out, I had Ike assess his reflection near the midpoint of the book. Go figure.
You? You should be getting very excited now. Look at the body of work you've done to prepare for this writing journey! It's coming together. You can do this! Your Arc Template is here.
Your turn. Go.
Other posts from this series are located here.
Are you excited to start writing? Have you started your draft already? Let me know!
---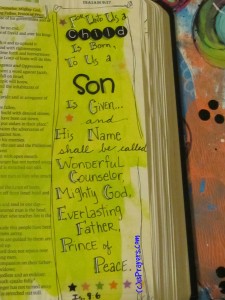 I love Handel's Messiah! I can't explain it.
Today's verse is from Isaiah 9:6 with the list of names the Christ Child would be known by.
Wonderful
Counselor
Mighty God
Everlasting Father
Prince of Peace
And I hear a massive choir singing in the background...





by