Have we done that yet?
As I've said before, I'm a multi-plot gal. I've got Ike trying to make amends with Justice. So, yes. Justice has to deal with Ike. But Justice had his own life plans before Ike shows up. Let's give him some conflict with that, too. And so on.
I've found that writing multiple plots into one book can be handled in 2 very different ways:
1. Writing each plot line separately. Don' even start another one until the key scenes from Plot Line #1 are finished. Then when it's all done, try to meld it all together.
2. Tracking each plot line. Even the slightest mention. One quick glance can tell you that it's been a while since…XYZ happened.
Number 2 works better for me.
**This might be a good time to remind you that you DO NOT have to sit down and write Chapter 1 first, followed by Chapter 2, ad infinitum. You can write scenes/chapters out of order and put it together later. In fact, I recommend this. I get a scene stuck in my head. I write it down and save it as a separate file. Then that particular scene stops bugging me. As I get closer to adding it in, I make changes to make it fit.
Me? I put "Ike: reconnect" in one box – since it's the main theme, it shows up all over the place. Tracking is a breeze. "Justice: save marriage" went in another box. His career plans went in another box. Tracking & more tracking.
You? DO NOT be concerned with chapter numbers at this point. We haven't outlined. You don't know where things go yet. Instead, DO list the different plot lines that you want to track. You won't be using this template until you are outlining or writing your rough draft. Your Multi-Plot Check Template is here.
Your turn. Go.
Other posts from this series can be found here.
If you'd like to read all the plot lines in my novel, the Kindle version is on sale throughout October 2015 on Amazon.
---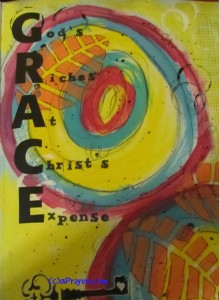 While my "Bible Journaling" entry today isn't actually a verse, to me it is the key theme that runs throughout scripture: Grace.
God's
Riches
At
Christ's
Expense
All of eternity is available to me because of the blood Christ shed for me. So great a cost that I cannot repay.
I. Am. Blessed.





by