Cry Out to God!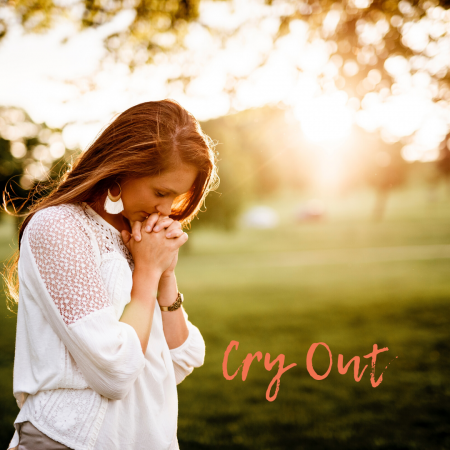 In this lesson we cry out in prayer.
Week 1 – we identified our fears
Week 2 – we sought to be overwhelmed by God/not fear
Week 3 – we recognized God as Power-full by our praise
Week 4 – we now explore just what happens when we cry out
Ps. 34:4, "I sought the LORD, and He answered me and delivered me from all my fears."
God's expectations
God expects us to pray. Not just to accept Him into our hearts, but to pray in both times of joy and in times of need. He expects us to pray in order to grow our relationship with Him. How do I know? Because in Luke 11, when the disciples asked Jesus to teach them to pray, He said, "When you pray…" (v. 2) Jesus didn't say 'IF' you pray… Nope. He said WHEN.
In Matt. 6, Jesus spoke of helping the poor before He moved on to prayer. In both instances, He said, "When you give to the needy…" (v. 2 & 3) and "when you pray…" (v. 5, 6 & 7). When fear and anxiety overwhelm you, cry out to Him and He will hear you. (See Ps. 34:4 above). He will deliver you from your fears!
Our expectations
We should expect God to hear.

There is scripture after scripture that shows me I'm not the first to want God's ear/attention. And there are many verses that point out His listening skills. Ps. 34.17-18 says, "The righteous cry out, and the LORD hears them; He delivers them from all their troubles. The LORD is close to the brokenhearted and saves those who are crushed in spirit."

We should expect God's answer in His best time.

Prayer isn't a drive-up window with instant takeout service. Often we must pray over a situation more than once. Perhaps even for an extended time. Don't you imagine that there are prayer warriors all over the world right now who are praying for a miraculous end to the COVID-19 situation? I know I'm praying for that. And still the days in isolation drag on. So, I also pray for God to use this time to draw people to Him.

We should expect to put in the work.

Matt. 7:7 says, "Ask and it will be given to you; seek and you will find, knock and the door will be opened to you." Do you see the progression of effort?
Ask. That doesn't take much effort. But, if you ask, you'll get an answer. (Yes, No, and Not Now are all answers to prayer) Have you been asking God for help with your fears and struggles?
Seek. Yet, if you take the extra effort to Seek God, you will find Him. Jesus promised us this. Are you seeking and searching the Scriptures for answers and relief from your fears, or are you spending more time in front of a screen?
Knock. That persistent approach that can't be ignored. Like those heroes who pounded on my mother-in-law's door years ago to warn her that the house was on fire. They didn't give up because they knew what was at stake. What is at stake for you today? Is it your peace? Your health? Your soul? If you don't know Jesus as your Lord and Savior, please go here. Your persistent, knocking prayers WILL BE ANSWERED. You will see God's will opened up to you.
If My people…
Maybe you're familiar with 2 Chron. 7:14, "…if My people who are called by My name humble themselves, and pray and seek My face and turn from their wicked ways, then I will hear from heaven and will forgive their sin and hear their land." I've seen several people quoting that online lately. So I took a closer look. I mean, it looks like a simple recipe, right? Humble, pray, seek God, & turn from sin –> God hears, forgives, & HEALS the land.
Look closely at the context:
(v. 13-15) "When I shut up the heavens to that there is no rain, or command the locust to devour the land, or send pestilence among my people, if my people who are called by my name humble themselves and pray and seek my face and turn from their wicked ways, then I will hear from heaven and will forgive their sin and hear their land. Now my eyes will be open and my ears attentive to the prayer that is made in the place."
I'm not saying this Pestilence is from God. On the contrary, I think the enemy is using it against people of faith to rock them with fear and pull them away from God. But the fix remains the same. Cry out to God, and His eyes will be open and His ears attentive to our prayers.
Songwriters: Nicole C. Mullen / Nicole Coleman Mullen
Call On Jesus lyrics © Warner Chappell Music, Inc, Fun Attic Music, LLC
Dig Deeper
Read Matt. 7:7-12. What relationship does Jesus use to compare our relationship to God? Does this help your understanding? What common saying do you notice in verse 12? Why do you think Jesus added that here?
Read Romans 8:25-28. How is it possible for us to pray when we don't know how?
Read Ps. 55:17. Is there a best time for prayer? See also Ps. 88:1.
Prompt
Find a way to illustrate your cry to God. I've put mine below.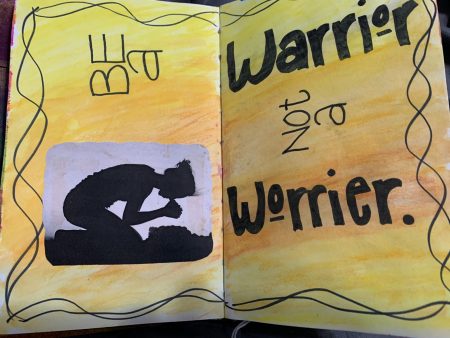 Prayer
Father God, we cry out to You. You alone are worthy of our praise, and You alone can offer us peace. Thank You for Your Spirit Who intercedes for us. Keep our minds focused on You. Draw us closer during these uncertain days. Amen

Next time we learn about being INVITED.