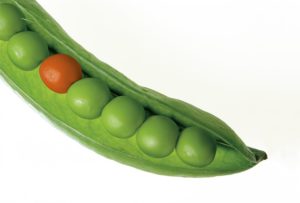 I'm quirky. Apparently this will come as no surprise to those who know me well/work with me.
I came to this realization last week when I told a co-worker I would meet her in my office – "after I shrink my elephants" (for an upcoming lesson). She didn't even skip a beat.
I don't know about you, but I can't remember the last time someone told me they were going to shrink their elephants – or any other animal. And I said it with such a casual tone – like it was something I do daily.
The thing that amazed me was that this teacher just nodded and went on like I'd just told her I had to make a phone call. Or brush my hair.
It made me think: Am I so quirky that the school staff has come to expect me to shrink elephants? I had to sit back and take stock:
My office is filled with puppets and stuffed animals I take with me when I go teach guidance lessons in classrooms.
I have a box of little magic tricks I use at the end of classroom lessons to tie them all together.
I made a cape and top hat so I could become Captain Kindness.
I have both a ladybug hat and a cheeseburger hat in my office.
So, okay. I guess it's not a stretch to expect a cape-wearing, puppet-carrying amateur magician to shrink an elephant or two. And I have had teachers say that they never know what to expect from me. I can live with that. I can be the quirky counselor who always does the unexpected.
God isn't quirky at all.
But I'm so incredibly grateful that God doesn't work that way. He is always, ALWAYS, faithful to His word. He hears our prayers, and He can even find some really unorthodox ways to answer them. But He is faithful.
For many years, I've worked with students who struggle. I've often wished I could be a foster parent. I could open my home to someone who needed me. I've even prayed about it.
God said, "No." Or, at least, that's what I thought He said.
Last month, I took Niece to start college. The house is back to just the three of us: Hubby, Mother-in-Law, and me. But on the way home from the college trip, God used the drive to have a heart-to-heart with me.
Okay. Actually, He hit me in the head with His Divine Brick of Revelation: Niece needed me. I took her in during a desperate time. She is mine. Now and forever. God answered my prayer to help someone in need. When I prayed that years ago, I couldn't imagine having her in my life in this way. But God saw the big picture.
I'm greatly blessed.
God is faithful. Period.
Thanks for reading. I'm praying for you to see the big picture, and I hope you can see Him at work WITHOUT the Divine Brick of Revelation leaving a knot.





by