Want some GUM while you edit?
G – Grammar
U – Usage
M – Mechanics
Once your rough draft is done and you've done a strong revision of content, you will need to edit your work.
Time for the other half of your brain
I can't help but repeat that your creative mojo cannot coexist within an editing mindset. These are two very different perspectives. So different, they require opposite hemispheres of your brain.
First write, then edit.
Get your rough draft done.
Make your revisions count.
THEN make time to edit.
An edit is not revising
While revisions are the freewheeling, sandal-wearing, subjective cousins of the writing world, editing is the stodgy, bow-tie-and-tweed-jacket-with-corduroy-elbow-patches-wearing stepchild. There are rules that must be followed. Or consistently ignored.
Are you okay with fragment sentences? Maybe. Maybe not. But are they okay in dialogue? If your character is royalty, maybe not. If they are a country rancher in rural Oklahoma, oh, yes. Decide before you start editing.
What about run-on sentences? As a rule, I'm against them. Until I met Wanda Remington, one of my characters. Wanda speaks in these marvelous run-on sentences that flow off her tongue like butter off a stack of pancakes. She makes a great foil for Ike because his cowboy code won't let him interrupt. For fun, Wanda is married to Zeke who barely puts two words together. So I get fragments and run-ons all over the place whenever they're in a scene together.
Help yourself out
Do you have words that you confuse often? Laid vs Lay? There, They're, Their? Let me introduce you to a handy site for that. You could also print up a handout for quick reference.
Do you have trouble with punctuation? Do you switch verb tenses from scene to scene or paragraph to paragraph? Editing time should catch this.
Moving forward
Me? As I've said before, in the past I edited as I went along. This was counter-productive. With this new book, I put it off as long as possible. I always have several issues that rear their ugly heads in every rough draft. When I do final editing, I take one chapter/scene at a time. I will read for Grammar. Again for Usage. And again for the Mechanics. Yep. Three times at least. I will often read aloud to be certain I fixed everything during revisions. Sadly, I do miss things. I was thumbing through my first book and found something I didn't catch before I sent it in. <sigh>
You? You can find dozens of editing checklists online with a quick search. Scan through a few and add things to your list that apply to you.
Remember:
My FREE novel planning templates are available beginning June 14, 2021 from my Novel Planning page here, along with links to the brief blog posts that explain them. You will also find links to posts describing my additional planning templates that are available here in my Shop.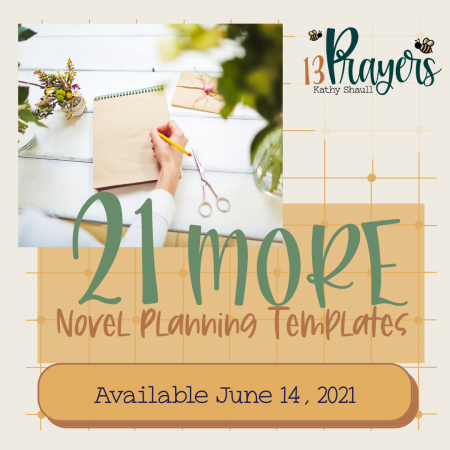 ---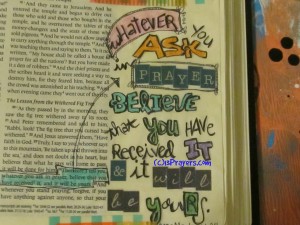 Mark 11:24 speaks on prayer – a favorite subject for me.
A new skill that I'm working on in my prayer life is to pray believing that I have already received it. Bible journaling this verse helps me bring that to mind.





by