God gave us a list of things to think about.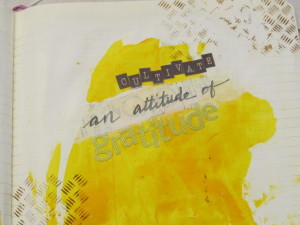 If we abandon that list, we're in trouble.
Phil. 4:8 says, "Finally, brothers, whatever is true, whatever is noble, whatever is right, whatever is pure, whatever is lovely, whatever is admirable–if anything is excellent or praiseworthy–think about such things."
Great list: true, noble, right, pure, lovely, admirable, excellent, praiseworthy.
But why does that matter?
1. Our thoughts determine our banter
Whatever we put in is whatever is going to come out. You've seen it. The child who spends time with someone new and comes home with fun new words that you don't approve of. Adults are the same way. Put scripture in – and you'll think about it later. Put that "questionable" movie or TV show in, and you bet you'll be thinking about it later. The amount of foul language on TV is so outrageous compared to just 10 years ago. We become desensitized to it. It even shows up in unexpected places – like product packaging. Look for it.
Exposure to this changes our verbal responses. Ramp up the stress level to HIGH+5 and add that "One more thing." Would you want your grandmother to hear you? Maybe it didn't actually slip from the lips, but it crossed your mind, didn't it? Did your boss hear? Your kids?
Wrong thoughts can kill your reputation if your words seep out at the wrong time. Beware.
2. Our thoughts determine our behavior
If we spend time in our personal pity party, wondering the "Why Me?" all the time, we become defeated. It's a matter of focus. When we feel defeated, we stop trying to improve or change. It's a vicious cycle. Negativity in thought never leads to positive results. Start each day with defeat, and you will just pile on more defeat throughout the day.
And it's not just pity parties. Someone asks you to go with them to a movie. You've heard it contains inappropriate scenes, but all the media attention made you curious. Those scenes play back through your mind more than you care to admit. For some, it never goes any farther. But for others, it leads to more movies or books…or experimentation in real life.
Wrong thoughts can kill your relationships and your productivity. Beware.
3. Our thoughts determine our breakthrough
Too many people have listened to voices – either from without or within – that have told them they are:
too fat
too thin
too young
too old
too dumb
too smart (if you don't think that's possible, talk to a teen who's been assigned to "those" classes)
not athletic enough
not good enough
not perfect enough
______________ (fill in your own blank)
After enough people tell you something long enough, you start to believe it.
Your "breakthrough" is more like falling through the ice into the lake below. You're drowning in the lies.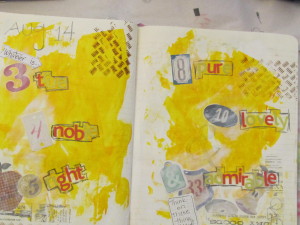 You stop believing in the dream God instilled within you.
Wrong thoughts can kill your breakthrough into the greatness God has planned for you.
true, noble, right, pure, lovely, admirable, excellent, praiseworthy — think on these things
---
The art this month is a "Growing" theme to remind me to grow my attitude of gratitude. This week I added random numbers with the stickered words in the passage. While I'm not a huge fan of math, I do like to use numbers in my art. There is no deeper meaning to the numbers today. I was just wanting some additional texture.
---
What suggestions can you add for keeping true, noble, right, pure, lovely, admirable, excellent, praiseworthy things in mind?





by