Directory Services
So many people running through your head! How will you ever keep them straight? With today's template. It's a quick list of characters.
But it's more than that. Research shows that when people are reading for pleasure, they read faster than when reading say...a technical manual. Names become an issue. Initials, actually.
The first letter of the name is what most people focus on for understanding and identification when reading fiction. So you have to be careful not to give everyone the same initials. I'm a big LOTR fan. (Lord of the Rings for you non-geeks) But I always have to stop and think when it comes to Sauron and Saruman. Too similar for me to just glide past in my haste to get to the Fires of Mount Doom.
Learn from my early mistakes: In my first version, I thought I was being clever when I named the character I now call "Ike" and his wife: Jack and Jill Maxwell. Then I continued the "J" fest by naming all their 5 children "J" names. It was awful. And confusing. Awfully confusing!
If you get stuck, search the Internet with something along these lines: "character name generator for writers" and see where it takes you. Google tells me I got nearly 3 million results. I will take their word for it.
Me? My template would look like this:
I....(Male)Ike...<on one line>
M...(Last)Maxwell...(Name)Ike Maxwell...(Character/Age)Father/54...(Note)Protag, POV, 3rd Limited <all this on the M line>
--at the bottom--(Family 1)Maxwell: Ike, Marilyn, Justice, Chance, Faith, Destiny
You? Collect all the major and minor characters you have created. This may be a time when you reconsider some names. (*I discovered that I tend to favor certain letters for first names.)
I STRONGLY RECOMMEND THAT YOU SEARCH THE INTERNET USING YOUR MAIN CHARACTERS' NAMES. WHILE IT IS UNLIKELY THAT YOU ARE THE FIRST PERSON TO CREATE THAT NAME COMBINATION, YOU DON'T WANT TO POACH A NAME FROM SOMEONE ELSE'S FICTION – WHETHER YOU'VE READ IT OR NOT. Your A-Z Template is here.
Your turn. Go.
What is the "working" name for your protagonist? Share below or on my Facebook page here.
You can find the other posts in this series here. And you can get your own Kindle copy of my novel for only $2.99 during the month of October 2015 on Amazon.
---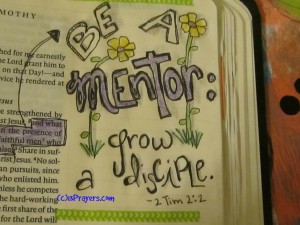 2 Timothy 2:2 reminded me to be a mentor. That's one of my favorite things to do. I've discovered so many people are willing to mentor you, if you will just get up the nerve and ask them! Who can you mentor today? If I'm mentoring you in the novel-writing or Bible journaling department, please let me know.
In the case for Christianity, be a mentor and you will grow a disciple. (And you will grow more yourself in the process, too!)





by